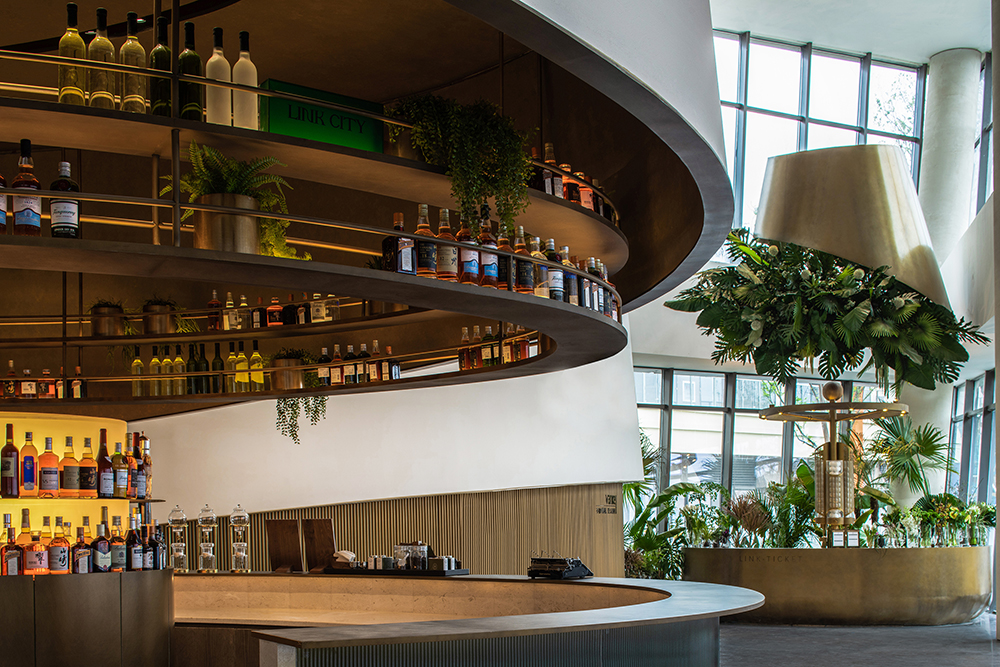 Name | LINK CITY Experience Center, Wuhan
项目名称 | 武汉万科华生柏叶新城
Area | 1400㎡
项目面积 | 1400㎡
Location | Siming District, Xiamen City
项目地址 | 中国 武汉
Client | Wuhan VANKE

开发单位 | 武汉万科
The crisscrossing of transportation road networks forms the base of modern cities. With the rail transit station as the center, roads, people flow and consumption are forming a huge community gathering field in the city, which is the three-dimensional and multi-dimensional TOD urban development mode. Taking the "railroad city" as the entry point, One Square plans the overall space as a future train, and uses the romantic mood of the train shuttling between the mountains and rivers to guide and constitute the movement line and functional arrangement of people in the space. The greenery of the wilderness and the halo of the tunnel of light become the scenery of the receding scene during the journey.
交通路网的纵横交错构成了现代城市的基底。以轨道交通站点为中心,道路、人流、消费,正在城市中形成一个个庞大的社区聚场,即立体多维度的TOD城市开发模式。以"轨道新城"为切入点,壹方将整体空间规划为一辆未来列车,以列车穿梭于山川脉息之间的浪漫意境,来引导和构成人们在空间的行进动线与功能排布。持一张未来车票,穿越无限循环的回廊,森森原野的绿意、光之隧道的晕影,在旅途的漫游中,皆成为了不断后退的一幕幕风景。
Vanke has been cultivating Wuhan for more than 20 years, from exploring the potential of the land and building a good living scene to the city-making concept around the city and its people today, always with the determination to develop together with the city, finding and shaping a balance between rapid urban expansion and residential quality improvement, urban public space and personal social space, urban construction and development and spiritual core. Along with the gradual improvement of transportation and planning, Hannan officially ascends to the south of Wuhan - China Che Valley, and becomes the first choice for the location of Wuhan Vanke's first TOD rail city. The first CO-life in Central China, Wuhan Vanke Huasheng Baiye New City Experience Center, is officially landed, and a new urban center is rising.
万科深耕武汉20余载,从探知土地潜力、构建美好生活场景到今天围绕城市及人的造城理念,始终以与城市共同发展的决心,在城市快速扩张与居住品质提升、城市公共空间与个人社交空间、城市建设发展与精神内核之中寻找和塑造一种平衡。伴随着交通与规划的逐步完善,汉南正式升维武汉之南·中国车谷,成为了武汉万科首个TOD轨道新城择址的首选。逐梦热土之地,万科携手壹方设计,叠加TOD轨道交通的区位优势及多维度复合场景的打造——华中区首家CO·life,武汉万科华生柏叶新城体验中心正式落地,一个全新的城市中心正在崛起。